Tom Brady, Michael Jordan, Tiger Woods, and Warren Buffet all have one thing in common…they all had mentors.  Could mentors really be that important?  Let's take a closer look.
Five days before Thanksgiving 2014,  Nick was waiting for his 20 ceramic units to be delivered. My assistant and I were anxiously preparing for his visit at the San Francisco PAC hands-on program.  That morning several instructors traveled in from around the country to guide, support, educate, and mentor myself and five other dental professionals in the step-by-step case cementation for our patients. Our collective goal: to learn the latest advances in the modern application of comprehensive restorative techniques all finished aesthetically.
So, how did this program help rehabilitate my patient, Nick, who suffered from years of destructive parafunction and a jaw that in his words "Just didn't feel right?"  This, is how we did it:
Step 1:  The PAC study group – August 2014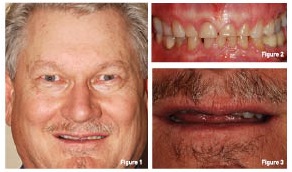 I presented Nick's full mouth reconstruction case to our S.F. study group (Figures 1-3). The PAC Study Group Director Dr. Samir Ayoub then shared a similar case with us.
Viewing Dr. Ayoub's entire case allowed me to immediately visualize Nick's potential case from diagnosis to cementation. Dr. Ayoub told me confidently, "You can do this." If he believed we could do this together, then I believed I could help Nick realize a dream he thought he could never afford.
What did Nick want?  To feel normal again when his teeth came together. Nick said his teeth were extremely worn down and he could not remember when his bite had ever felt comfortable.
Step 2:  Direct preliminary mentorship from Dr. Samir Ayoub and PAC director, Dr. Michael Miyasaki – September, 2014
We developed a series of carefully thought out systems to address Nick's occlusal motivations. This initially involved finding a repeatable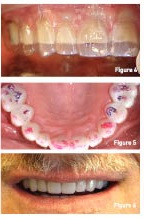 position where the muscles of his temporal mandibular joint could be relaxed and the joint could be fully functional. Once Dr. Ayoub instructed me on how to obtain this critical new bite relationship, we captured this new bite and a complete maxillary and mandibular wax up was fabricated by The Pacific Aesthetic Laboratory Group and Corr Dental Designs, a PAC owned laboratory in Roseville, CA. The precise vertical opening was measured by mocking up the central incisors to see what looked and felt good to Nick. A special request for clear Essix retainers (Figure 4) made from the wax up was an added educational detail that would allow me improved visualization to see the approximate tooth reduction requirements during the procedure.  As it is apparent, no incisal reduction was necessary.
Fixed, fully functioning orthotic splints were then fabricated over his dentition. This provided an aesthetic and occlusal simulation for the patient that he could test and feel what a rehabilitated bite could feel like. Figure 5 demonstrates the immediate occlusal markings following removal of the provisional jig.
In Figure 6, Nick is seen here with presumably his first relaxed smile, in decades. With his new fixed orthotics in place over his still unprepared teeth he remarked, "It just feels right."
Step 3:  The PAC Hands-On Program: Preparation – October 2014
Nick and I corresponded by phone and email and following his report of comfort and function, we proceeded to the PAC hands-on program preparation appointment.  Following 20 units of preparation and another newly fabricated provisional, he repeated, "The bite just feels right."
Step 4: The PAC Hands-On Program: Cementation November 2014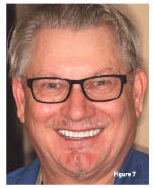 Since Thanksgiving was five days away, everything must go right. Gary Vaughn, CDT and CTO of the PAC Laboratory Group, Ryan Corr, and their entire team of artisans created stunning aesthetic restorations that exhibited exceptional marginal integrity and did not require a single interproximal adjustment.  Nick received his IPS e.max all ceramic veneers and crowns and a mandibular left fixed zirconia 3-unit bridge after we utilized the PAC rapid cementation protocol.
This time Nick rose up from the chair and celebrated, "Yes! It feels great!" He grasped my hands and squeezed them with extraordinary gratitude (Figure 7)!
Four years and five PAC hands-on programs later, and I now understood why Brady, Buffet, Woods, and Jordan all had mentors.  Mentors can take the exceptional knowledge each of us possess whether in basketball, investing, or dentistry… to a whole new level.  Excellence is just around the corner.  Let's do this… together.
If you are interested in learning more about the PAC mentorship, PAC Study Groups and the PAC Hands-on Course contact the PAC at 888-702-2560 or on the web at www.thePAC.org.
If you have questions about or would like to send a case, please contact the Pacific Aesthetic Dental Group at www.pacificaestheticdentalstudio.com or Gary Vaughn or Ryan Corr at (916) 786-6740 or via email gvaughn@thePAC.org or rcorr@thePAC.org.