Sometimes in our need to increase production, satisfy patients demands or simply due to our lack of knowledge of a better way, we look at what appears to be a basic case of dentistry without delving deeper into the real requirements for achieving an excellent esthetic and functional result. The patient usually only knows he or she wants a more attractive smile but doesn't recognize the present circumstance was the result of years of dental abuse, caries, bruxism, inattention, lack of funds and education.
The case I am discussing today, addresses some of the above and the necessities of the dentist to pay attention to all the details to achieve an excellent result.
The patient presenting to my office wanted an attractive smile and in a short amount of time. He was referred by a friend who I had recently treated with veneers. This patient knew how important his smile was to his profession but was not fully aware of what it would take from me to give him not only a beautiful smile, but also a healthy and functional one.
In brief, he had multiple failing root canals that needed retreatment, multiple failing composites, active decay, as well as wear and occlusal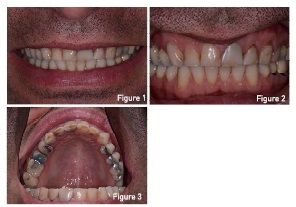 issues. His main concern was his unattractive teeth and smile. On a positive note, he had healthy gums and no joint problems (Figures 1 and 2).
The first challenge was to get an endodontist to review and retreat the failing root canals and determine, with reasonable confidence, if there would be sufficient tooth structure. I also requested the use of fiber posts and opaque composite cores to aid in decreasing the very dark tooth color upon which my ceramic restorations would be placed. The attention to detail was to recognize the problems ahead of time and convey the extra effort needed by the endodontist to allow me to be successful with my final restorations. The endodontic specialist was able to complete my requests with an excellent outcome.
My plan was for restorations on #3 through #14 with prep designs for tooth strength where needed while maintaining lingual cusps when possible to support and guide the restored occlusion. I had to select a material that would be highly aesthetic with a core (ingot) capable of subduing the discolored prepped teeth and allow for sufficient cut-back for layering the aesthetic porcelain.

  Attention to detail also involved developing an occlusion that had anatomy but was flat and without deep interdigitation and an anterior guidance that was progressive, allowing for protrusive and lateral movement and respected the patient's occlusal patterns and envelope of function.
All this was preplanned and directed to Corr Dental Designs for a wax-up from which the temporaries were produced.  (Figure 4) The temporaries were used as a trial run. They were studied and meticulously adjusted over a four week period for occlusion, disclusion, envelope of function, and aesthetics.
After all was tried and tested, the final impression of the temporaries went to the laboratory with appropriate and detailed instructions. I discussed ingot selection for different teeth, appropriate cutback required, and shade, shape, characterization and incisal translucency required specifically for this case with Gary Vaughn, CDT, CTO.
Much time was spent with Gary Vaughn and Ryan Corr as well as the exceptional and talented group of artisans from model pour, to die trim, to mounting and waxing, pressing, and cutback, and layering – all of which is a major team effort requiring communication and execution. This attention to detail by all is expected and greatly appreciated. The results are evident.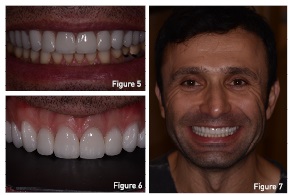 The final cementation was devised to slightly vary the color using luting agent to add or subtract warmth where needed and compensate in areas where ingot selection wasn't enough. For this I used Accolade PV by Danville Engineering which has a simple selection of shades and try-in pastes. The material is easy to work with and cleans up nicely. The bonding agent was Prelude Adhesive System also from Danville. Because I prefer light cure material I had my assistant use extra high power light for longer time to assure full and complete cure through the thicker material and more opaque ingots. Even this process was thought through previous to the actual cementation of the restorations (Figures 5, 6, 7).
To achieve these aesthetic, functional, and biologically healthy results the practitioner must be attentive to all details from beginning to end, know what you and the patient want, communicate throughout, use an experienced and knowledgeable laboratory and the best materials —for all cases – from simple to complex.
Attention to detail = Excellence
If you have questions about my article or if you would like to send a case, please contact the Pacific Aesthetic Laboratory Group at www.pacificaestheticdentalstudio.com, Gary Vaughn, CDT, CTO (916) 786-6740, or via email gvaughn@thePAC.org.