Have you had a patient that wanted aesthetic treatment but you did not know exactly what decision would give an excellent outcome, be conservative, and have long term stability and excellent aesthetics?
About three or four years back, a patient of mine finally decided she wanted to improve the health and look of her smile. She was planning on getting married and wanted to look her best.
We took study models and photographs and upon review decided we had a dilemma. Tooth #6 was 3mm palatal and in cross bite. Tooth #7 was 2mm facial and high up apically. The teeth were too far out of position and I knew it would be difficult if not impossible to prep these teeth and achieve any cosmetic result (Figure 1).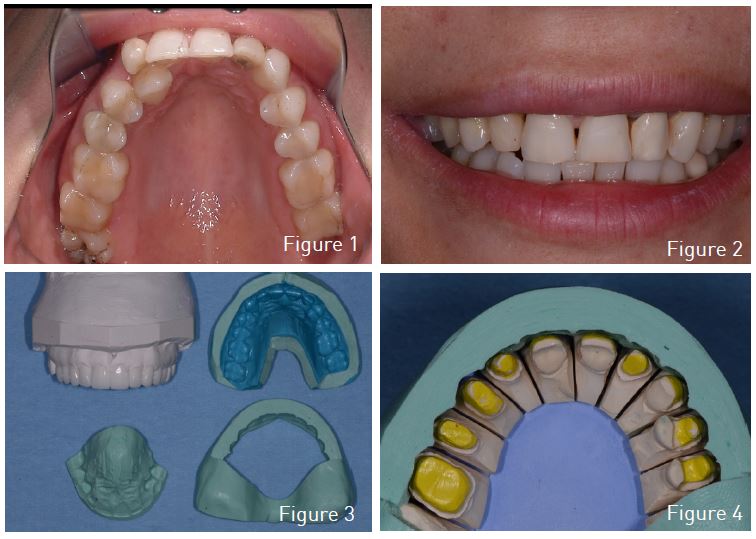 The patient consented to an orthodontic consultation as she had the time and wanted the best result possible. Consulting with an orthodontist who had extensive knowledge in smile design, we decided to extract #6 and treat only the upper arch.   In twelve months he would move #5 mesially and bring down #7 (bone and tissue) into sufficient arch form to allow me to conservatively prep the case and create the perfect smile. He also improved the midline, arch form, and spacing.
This treatment plan would give excellent aesthetic results, have long term stability, and could be completed in time for her wedding.
After twelve months, the teeth were appropriately positioned for the next phase (Figure 2).
Working with Corr Dental Designs, I sent for an ideal wax-up and associated preparation guides, and a temporization mold. The wax-up corrected what orthodontics could not. The guides showed me where and how much to prep the teeth and also the laser gingival contouring I needed to do (e.g. Move the zenith up and the mesial of #5 to look like a cuspid) (Figure 3).
The teeth were prepped and temps fabricated confirming the high esthetic possibilities to come. Very little correction was needed due to the excellent wax-up and guides from Corr Dental Designs (Figure 4).
Note the various tooth prep designs that were utilized to achieve the final result. Minimal but appropriate tooth reduction, maintenance of vertical stops when possible, and lingual cusp reduction of #5 to simulate a cuspid tooth as well as extra laser contouring to move tissue zenith up and mesial were done to set up the case for the laboratory to do their magic.
Impressions, temp models, stick bite, prep shades, photos, and instructions were sent to Corr Dental Designs. Discussing the final shade would create lightness of color and still have a warm and pleasing A-1 chroma.  The material was e.Max (Ivoclar Vivadent) cut back and layered for optimal aesthetics (Figure 5).
As you can see, the combination of the correct tooth extraction and orthodontics combined with ideal smile design tooth preparation, tissue lasering, and excellent laboratory fabrication resulted in this beautiful smile for the bride to be (Figure 6).
After cementation, a clear pull-down retainer was ordered and delivered to stabilize the post ortho teeth.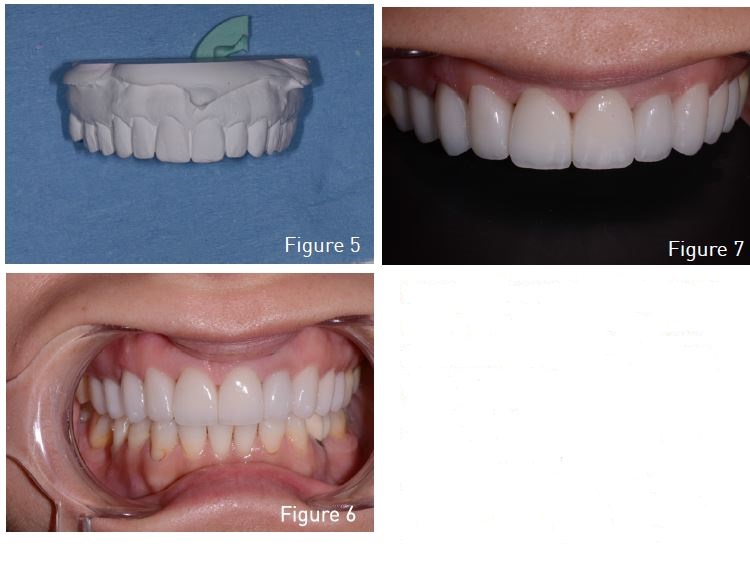 The patient was ecstatic with her smile and very glad she went forward with the orthodontics first. She got married three months later in Poland among family and friends whom she had not seen in ten years (Figure 7).
Working together with knowledgeable people and collaborating on treatment options with patients best interest in mind will always have the best outcomes and personal satisfaction of all involved.
As always, thanks to the many fine and talented artisans at Corr Dental Designs who create our beautiful restorations and smile design cases. If you have questions about this article or if you would like to send a case, please contact the Pacific Aesthetic Laboratory Group at www.pacificaestheticdentalstudio.com, Gary Vaughn, CDT, CTO (916) 786-6740, or via email gvaughn@thePAC.org.